MPT now offers N.I. approved Dynamic Positioning courses

Back to News
Maritime Professional Training Receives Accreditation from The Nautical Institute As a Dynamic Positioning Training Provider; Successful Inaugural Class Started April 9th
Maritime Professional Training announces its Nautical Institute accredidation as a Dynamic Positioning Training Provider and the successful start of its inaugural class on April 9th.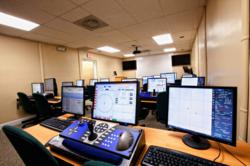 Fort Lauderdale, FL (PRWEB) April 16, 2012
Fort Lauderdale based Maritime Professional Training, the largest private maritime training school in the United States, is pleased to announce it has received accreditation from The Nautical Institute as a Dynamic Positioning (DP) Training facility, joining a select few organizations both in the U.S. and worldwide that are authorized to offer training in this highly valued and specialized profession.
MPT has completed installation of a state-of-the-art DP training lab utilizing Marine Technologies (MT) system software with multiple models to provide training on a full range of Dynamic Positioning vessels. Combining the latest simulation software from the Transas Group, with an integrated Electronic Chart Display & Information System, one of the most commonly used shipboard electronic chart systems, MPT has further cemented its position as the industry's most advanced privately owned maritime training school. The new Lab, with six individual training stations is designed to be one of the most comprehensive currently available anywhere in the world. MPT's design will allow one student per station for maximum hands-on experience during training. Students will gain a real-world experience with the bridge radar, the Transas and ECDIS systems, the ship's conning display and the vessel's visual channel, all incorporated into each station.
"We are extremely proud and pleased to be leading the way in providing one of the latest and most advanced facilities, offering the highest standard of training and providing a level of support and practical exposure for our DP students that will be unmatched," said Ted Morley, Chief Operating Officer at MPT. He added,"We have made a substantial investment in our facility and believe that the combination of cutting edge technology and DP instructors who are NI certified, as well as experienced and licensed at the highest unlimited tonnage levels, positions us to offer the most comprehensive realistic DP training available."
MPT will offer both the [Basic DP course as well as the Advanced DP course and will issue certificates of course completion which are necessary for students to qualify for application to the Nautical Institute for certification. The Nautical Institute is the international accreditation organization for certification of DP training centers and DP professionals. The inaugural MPT Dynamic Position class started on Monday, April 9th.
About Maritime Professional Training MPT is located in Fort Lauderdale, Florida, five minutes from Port Everglades and the Fort Lauderdale International Airport. MPT is the most complete full service private maritime school in the country and has been training mariners since 1983. Training thousands of commercial mariners, yachting professionals and enthusiasts for over 30 years has enabled MPT to develop programs that are success oriented, with unbeatable pass rates, as well as being cost and time efficient. MPT offers all levels of certification, license and document study programs, many of which offer in-school testing, are USCG Approved and are recognized by many foreign administrations. Training programs are designed to meet and exceed IMO standards and are fully STCW Compliant. The Fort Lauderdale based campuses host over 45,000 square feet of classrooms, deck and engineering training labs. Training programs also take place at the MPT SMART Simulation Center, Marine Tech Shipboard Firefighting Site, Sea Survival Training Facility, and onboard the MPT Fleet of Training vessels!